Sunnyside Gardens Residence Open House: 2018 New York Passive House Days

47th St Sunnyside, Queens | Friday - June 8 @ 4-6 PM
Link to RSVP
OPEN HOUSE EVENTS
4:00 Informal tours with Sissily Harrell and New Deal Home Improvement Company Inc

5:00 Questions and Answers with Project Architectural Designer Sissily Harrell and New Deal Home Improvement Company Inc

5:30 Meet the architect Paul A. Castrucci

6:00 open house shut down
---> after party walk to . . .
Quaint
46-10 Skillman Ave
https://goo.gl/maps/M8hew1PTbGD2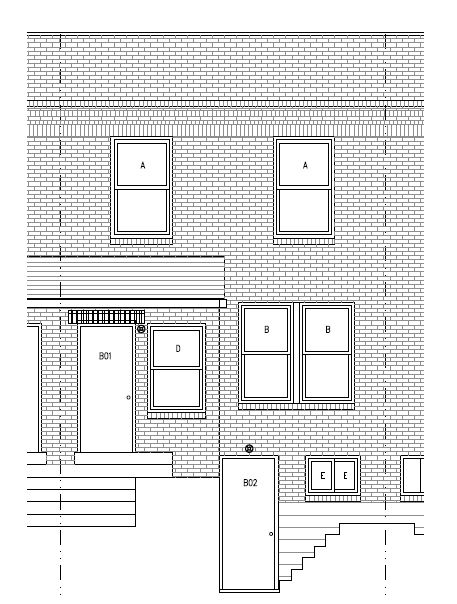 New York City – May 25, 2018
Paul A. Castrucci, Architect and ZeroEnergy Design joins New York Passive House (NYPH) for the Summer International Passive House Days. NYPH tours offer the public and industry experts a first hand interaction with Passive Houses. Paul A. Castrucci, RA and Sissily Harrell will guide the open house tour on Friday, June 8 from 4-6pm. The architects will also hold a discussion and educational event on site for builders, engineers, architects, developers, affordable homeowners and green building enthusiasts to learn more about the project. This open house is notable because it will be the first Passive House in Sunnyside Gardens project.
The Sunnyside Gardens Residence is a 1000 sqft single family row house located in the Sunnyside Gardens Historical District in Queens, New York. Built in 1925, this compact 3 bedroom row house was design by Clarence Stein and Henry Wright in the Art Deco style. The structure will undergo an extensive renovation that carefully incorporates Passive House EnerPHit standards with the building elements that contribute to the special architectural character of the district, including siting, style, scale, material and detailing.
Sunnyside Gardens was built from 1924 to 1928 as a philanthropic effort to 'encourage greater equity in housing production, location, and design' and stands as one of America's best examples of low-density, low-rise residential development. Inspired by the English Garden City movement, the district was based on a concept that combines resource and environmental planning of typical urban and rural conditions to create an alternative for suburban living. A key signature for the Garden City style is the combination of single-, double, and triple- family private homes with rental apartment buildings and their arrangement around common gardens and pedestrian-friendly thoroughfares. Long-time resident Lewis Mumford called Sunnyside Gardens "An exceptional community laid out by the people who were deeply human and who gave the place a permanent expression of that humanness."
Paul A. Castrucci Architect has worked closely with the clients, NYC Landmarks Preservation Commission, NYS Parks, Recreation & Historic Preservation, Parks Department, Queens Community Board #2 and the Hamilton Court Association to create a design that respects the character-defining features of the building and its historic context. Restoration of both primary and secondary facades begins with a particular sensitivity to the original Hudson River Brick and its corbeled detail in the entablatures of each facade. The firm received full approval from the Commission, the first in the district, on the Passive House-certified simulated double hung windows - designed to incorporate historic elements into the energy-efficient triple pane design, including shadow lines, simulated divide lights, and a simulated double-hung function (a better performing window very similar in look to the historic wooden single pane double hung window). Paul A. Castrucci Architect has carefully developed windows; paying close attention to original relationships of wall planes to windows, site lines from the street, color and material, and proper installation of all components by the contractor.
Paul Castrucci, Architect developed air sealing and brick restoration details for this project and will follow up with contractors' training to ensure proper installation.
A new R-40 roof assembly integrated with the Sunnyside Gardens Residence's mechanical system is designed to minimize energy use. High-efficiency mini-split HVAC units heat and cool the home, taking up much less space than the typical apartments' due to the buildings reduced heating and cooling loads. Interior space is limited in this single-family rowhouse, so ductwork is kept to a minimum size to take up as little space as possible as it passes through the interior. Precise air sealing installation will prevent thermal breaks. Hot water is supplied with heat pump hot water heaters. Energy-efficient appliances and LED lighting is used throughout. Finally, a 3.5kW Solar Photovoltaic array will be installed on the roof to achieve near Net Zero energy capability. The solar layout is hidden from street view in order to respect its historical context. The home operates entirely on electricity - no natural gas or fossil fuels are used.
 


Passive House is an international building standard developed in the 1990s by the Passive House Institute of Darmstadt Germany. The firm is committed to building to Passive House standards, reducing building energy use through passive measures and components such as insulation, airtightness, heat recovery, solar heat gains, solar shading and incidental internal heat gains. Passive House buildings are comfortable, affordable and create deep reductions in environmental/carbon footprint.
New York Passive House is an independent not-for-profit organization that facilitates the exchange of information and experiences, among local, national and international practitioners of the Passive House building standard.
ZeroEnergy Design is an architecture and mechanical Passive House design firm specializing in high performance homes and buildings. The firm's commitment to innovative and ecologically sensible design is reflected in multidisciplinary knowledge base, which spans architecture, mechanical design and financial analysis. The firm supported the project as passive house consultant.
Paul A. Castrucci, Architect is an early adapter of Passive House construction having completed R-951, which is New York City's first Net Zero Capable, Passive House certified residence. The firm has over thirty years of experience in sustainable practices with a focus on affordable residential buildings, arts facilities and community centers. The firm's body of work reflects the firm's commitment to sustainability in design and construction. The firm's projects typically incorporate systems like passive and active solar heating, photovoltaic electricity generation and schemes for natural day lighting and ventilation.
Press contact: Rosalinda@castrucciarchitect.com T. 212.254.7060 x 612
Partnership Organization and Special Thanks to New York Passive House, ZeroEnergy Design and Owners of Sunnyside Residence