NEW YORK CITY HOUSING PRESERVATION & DEVELOPMENT REQUEST FOR PROPOSAL
SustaiNYC : Achieving Community, Economic and Environmental Sustainability through Passive House Design
The New York City Department of Housing Preservation and Development (HPD) invited developers in 2016 to submit proposals for a new Passive House construction project in the East Harlem section of Manhattan. Paul A. Castrucci, Architects PLLC was a part of a team with The Community Builders, LOTT CDC, EDI International, and Urban Quotient. In 2017 the team's proposal was selected as one of the finalists.
Our team sought to create a singular place to live, work and pursue all that urban life in Manhattan offers. A sustainable project unique in all the country that would inspire the architectural and development community to expand their notions of urban affordable housing and to see the possibilities of healthy sustainable projects notable for their cultural life and energy, not their problems.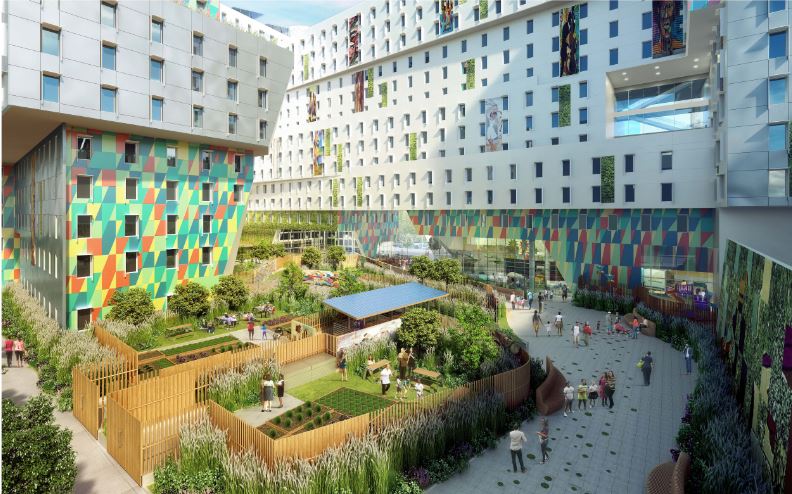 Inspiration from community gardeners
We took our inspiration from the community gardeners, who upon seeing abandoned lots strewn with trash, recreated a place where nature and community flourish. In much the same way, on the vacant the E111 site, inhabited by feral cats and rat poison warnings, we dream of building a village - that simplest of urban gathering places where the old mingle with the young, where the street life runs through the alleys, tumbles into the yard and spills back onto streets. In our project we let the sun in to shine in windows, to warm and nourish plants, creating a source of power for our residents. The benefits of rain were captured and used to cool and nurture garden spaces. Our architectural concept was conceived as a complete mass built fully within all of the street walls
Integrated Design Process: Passive House As Design Inspiration
Passive House design informed some of the earliest and most important design decisions on the project. These early shading/massing studies helped define the massing concept of the project. By creating a void or 'solar wedge' at the Southeast corner of the site, the project achieved the dual goals of maximizing passive solar gains on southern facades and creating a light filled community garden. The shading studies also defined the approach to fenestration and shading.
Passive House Details : Roof, Wall/Window, and Slab
(Click to enlarge the image)
Green Features
E111 will be the largest Passive House Project in the country once completed. Open source concept sharing will help make E111 a model and demonstration for future Passive House implementation across NYC. Building tours and community outreach will further educate and spread the word to the public.